2014 Auction, May 17 -18

Consign early for maximum exposure

of your antique boat or vintage auto.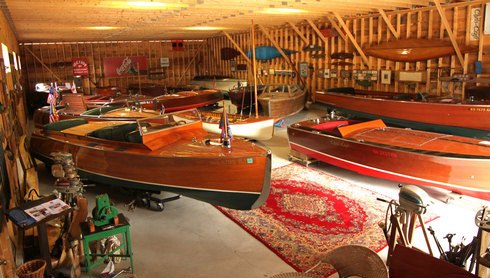 I have been asked to find a new home for Round Rock, she is a 1937 22' Hutchinson Utility with a very rare carvel planked hullside. Seats 8 with factory corner seats and storage lockers below, all original hardware, gauges and rebuilt 6 cylinder Chrysler Crown. In 20 years this is the finest Utility i have ever had the pleasure to offer, all systems in excellent condition, a must see boat. Full cover included. Milton Showroom - $22,000.-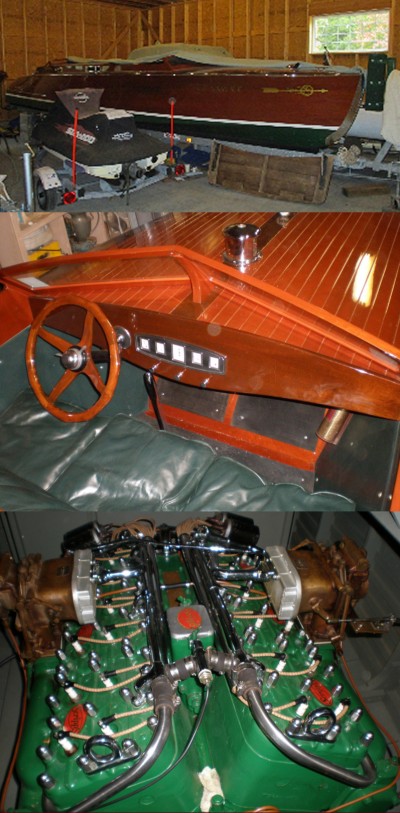 New to the market

1931 24' Chris Craft triple cockpit upswept, original 5 gauge German Silver panel and gauges, all original hardware and original Chrysler LM Silverdome. Last year of the raised deck boats. Needs restoration.

1924 22' Toppan High Speed launch, original Kermath 50, stored for 40
years by original owners.

1948 16' Chris Craft White Cedar boat in exc cond, original hardware and CC model B engine, new 5200 bottom, 1 year build , very rare.

1956 Chris Craft 20' Sportsman, K engine , very good cond, 2nd owner.

1936 18' Chris Craft model 514 Dbl forward runabout, original hardware,
gauges, model k engine and 5200 bottom, runs exc. Very rare boat. SOLD

1954 15'6'' Correct Craft Junior w 4 cyl gray. Complete and original. One of 5 promotional boats for the 1954 Boston Boat Show.


1936 16' Chris Craft dbl forward runabout, complete and intact with original CC Model b 4 cyl. Great restoration potential. SOLD


To see the photographs at a larger size, please click on that boats image or on the hyperlink next to the photo Click here or call (603) 345-3765 if you need more information on a specific boat listed.
#




PHOTO

LENGTH

MAKE & DESCRIPTION

PRICE

15

22"

Hull # 2059 rebuilt CC Model K 6 cyl, new fuel tank and recent varnish. Upholstery, flooring, woodwork and finish in very good cond. All systems in exc cond, includes a full cover, and tandem trailer with new bearings and tires. Milton Showroom.

$22,975
17

18'

rebuilt CC Model K 6 cyl, new 5200 bottom, chrome, upholstery, refurbished gauges, complete refinish and custom Sea lion Trailer w/ brakes. Nice walk through front seat. Best of show 2012 Vt. Antique & Classic Boat Show.


Sold

10

19'-6"

Chrysler 325 hp engine. Fully restored w/ west bottom, new frames, upholstery, cover and rebuilt blueprinted engine. Tandem trailer. Fast, powerful and ready to show.

$47,000
23

17'

Hull # 71153 re powered with Mercruiser V6 + new upholstery. Trailer + original Model B engine included. Very nice pre war runabout.

$15,000
12


21'

1941 Lyman

with 6 cyl Graymarine 109 + tandem trailer. New transom, bottom work and full strip and repaint. One of 10 built, originally a hardtop, overall very good cond.


Sold
4


20'

w/ 0 hours on the original rebuilt Universal 6. New west bottom, new wood on sides, decks, transom. New wire, upholstery + restored original gauges + panel. Engine by Mark Wilson. Trailer included..

$45,000

1


16'


1965 Century Resorter


w/ 305 Interceptor. New west bottom, wiring,starter,generator,fuel tank,fuel lines,ignition,new custom trailer and cover. Exc Cond, ready to run.

$19,000


13


18'

$8500
26



21'

1959 Chris Craft Continental
w/ great fins. Very original boat w/ 3rd seat, rare Hemi powered model. Ready to run, tandem trailer included. 190 built, 57-59 very few w/ the Hemi.

$20,000
25

15-5'

1956 Wolverine Seafarer
Merc 4 cyl 45 hp, original Mastercraft trailer w/ spare, full cover, all in excellent condition. Complete restoration and motor done by Ken Hall, merc race engine mechanic for 50 years. Milton Showroom.

$11,000

5



16'
1970 Old Town Octa sailing canoe
restored w/ new canvas. Excellent
condition. Milton Showroom

$1,800

22


25'

1940 Chris Craft Deluxe
Enclosed cruiser, 6 cyl CC model K and tandem galvanized trailer. 4 berths, sink & head. Extra clean boat w/ plenty of room in and out. This beautiful cruiser is ready to run.

$13,000

24


13'

1956 Aristocraft Sea Flash
w/ 1956 Merc Mark 55 and
trailer. Nice model w/ fins, stored inside for years in a private
collection,very good original cond
$9,500

21




   28'


1929 Chris Craft Custom Upswept
Hull # 3038, Tahoe boat all original equipment except repowered to a 440 Chrysler. 1 of 137 built. Trailer and waterline covers.

Sold
2


17'


1947 Chris Craft Deluxe

Hull # R-17-432 Exc original cond,
never restored. 1 hour on rebuilt model K 6 cyl. New galvanized
trailer.


$24,000


3


22'

5200 bottom, new sides, decks & transom. New 5.7 GM 310 hp, fuel tank, wire, upholstery, 6000lb aluminum trailer. Exc cond.


$66,000

6


27'





7


18'

$12,500

8


17"

1966 Chris Craft Supersport


GM 350 complete restoration with
5200 bottom, paragon trans rebuilt,
bimini top and full back canvas to waterline & galvanized trailer.
Summers in covered slip, exc cond.


$25,900

9


22'


$25,000


11


17'

Sold



14


19'

$21,000

16


18'


Hull #18000, first hull built of this
series. Original Hdw, wheel, gauges,
panel & Chrysler crown. Windsor trailer.


$18,500
18


16'

Hull#174 4 cyl85 hp Gray Marine,
Nicely restored with West bottom,
new sides, decks, transom, upholstery and fuel tank. Trailer and mooring cover.


Sold


19



15' 6"


Chris Craft Model 300 Runabout


w/ 5200 bottom and rebuilt CC 4 cyl 60 hp model B engine. Converted to 12 volt, electric fuel pump, cover and trailer. Runs exc.


$15,000

20



17'


Rebuilt Chris Craft Model K 6 cyl. Boat used every season.

$18,000







We also have project boats available.

1930's 20'6'' Triple Cockpit, builder unknown, some hardware.

1932 15'6'' Chris Craft Model 300, complete hardware w/ Model B

1935 18' Chris Craft Sedan, only original one known, some hardware.

Call for more info.






For more Information on the boats listed above, Click Here
Click on our address for a map


Inland Boat Works
Gary Michael


293 Route 13
Brookline, NH
Phone: (603) 345-3765

Email: info@woodboats.org
boats,WOODEN CRAFTS, Wooden Craft, wooden crafts,Wooden Boats,MAHOGANY BOATS, mahogany boats, Mahogony Boats ANTIQUE BOATS, CLASSIC BOATS,CHRIS+CRAFTS, chris+crafts, CENTURY BOAT, CENTURY CHRIS CRAFT,Chris Crafts,wooden boats, WOODEN CRAFTS, Wooden Craft, wooden crafts,Wooden Boats, MAHOGANY BOATS, mahogany boats, Mahogony Boats ANTIQUE BOATS,CLASSIC BOATS, CHRIS+CRAFTS, chris+crafts,CENTURY BOAT, CENTURY, CHRIS CRAFT,Chris Crafts,WOODEN BOATS,wooden
Copyright © 2013 Woodboats.org - Ron Robert Web Design