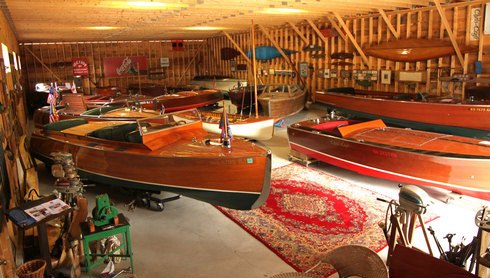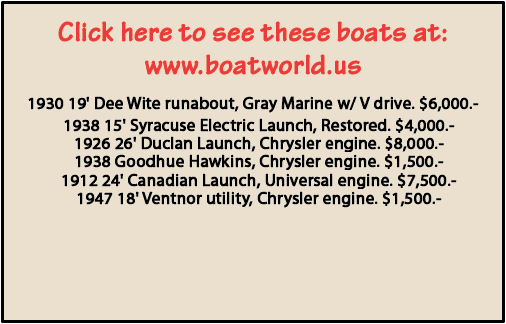 1926 29' Rochester restored by Wayne Mocksfield powered by a Scripps V12 in excellent running condition. One of 3 29' Rochester's known to exist ,this is the most famous,shown by Wayne extensively at all the Northeast shows. Built in Rochester N.Y by Rochester Boat+Engine. Leather, chrome, varnish, engine all in excellent condition. Full waterline cover and tandem trailer.
Check back for new listings.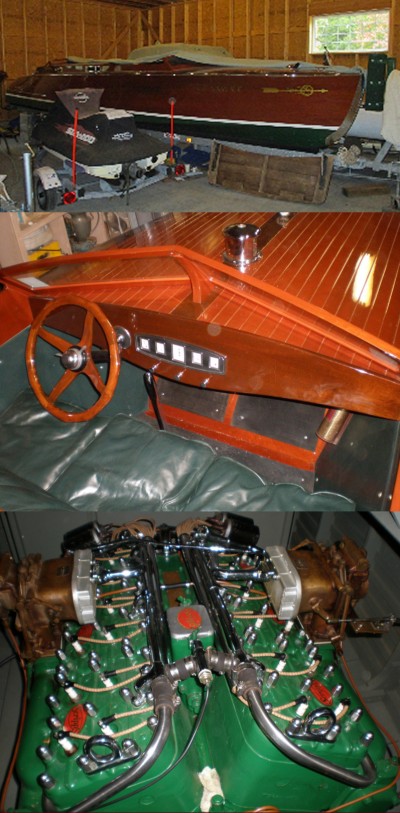 26' Chris Craft Roman numeral 72, straight boat with some hardware and gauges. Curtis OX5 with super rare Chris Craft model A1 Transmission. Engine fully restored and in the process corrected all flaws in the original build. This will be a dependable daily driver. Great opportunity to add something special to your collection.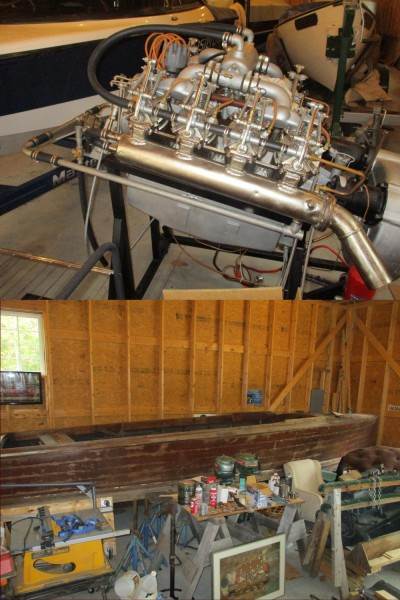 To see the photographs at a larger size, please click on that boats image or on the hyperlink next to the photo Click here or call (603) 345-3765 if you need more information on a specific boat listed.











#




PHOTO

LENGTH

MAKE & DESCRIPTION

PRICE





3

22'

1964 Shepherd
V drive restored boat with Chrysler Hemi 280 HP. Quickload tandem. Complete hardware, needs upholstery. Lakes region N.H.
$38,000





20

22'
1930 Gar Wood triple cockpit
powered by a Chrysler straight 8 120 HP. West System bottom, 12
volt electrics. Tandem trailer and cover. Best Gar Wood Wolfeboro N.H. 2018. Lakes region N.H.
Better pictures soon.
$65,000





36

22'
1935 Gar Wood triple cockpit runabout
powered by a Chrysler, Royal. Show winner. Quick Load aluminum tandem trailer. Lakes region N.H.
$70,000





42

18'

1957 Shepherd
with Chrysler Crown twin carb and V drive. Dbl forward seating and walk
through front seat. One of 2 built for display at the Montreal Boat Show in 57. Aluminum trailer. Lakes region N.H.
$20,000





47

18'
1959 Shepherd
restored with bimini top and aluminum trailer. No engine Lakes
region N.H.

$17,500




48

18'
1957 Century Arabian
fully restored, A&A upholstery and aluminum trailer. No engine. Lakes region N.H.

Sold




49

18'
1956 Century Resorter
fully restored, A&A upholstery, Quick Load aluminum trailer and soft top. No engine. Lakes region N.H.

$18,000




46
22'
1927 Chris Craft #1123
flush deck triple cockpit.6.2 Liter 340 Hp Mercruiser Black Scorpion w/velvet drive transmission. New shaft, coupler, cutlass and Federal 14x14 #1 cup prop. Fire supression, bilge blower, waterline cover and Calkins tandem trailer with brakes.Origianl gauges. Entire boat refastened and refinished. Several pages of work done for review. Location N.Y.
$44,000




41
24'
1958 Hacker Sedan
powered by twin interceptors.2 Berths, sink, head, bimini top and custom trailer. 20 Year restoration by 2nd owner with documentation from new. The original owner paid to reopen the Hacker plant to build this boat, it is the last original Hacker built. Letters included between Hacker and buyer to document reopening the plant. Full restoration package available. Spectacular boat with full history, located Southern Maine.
$165,000




43
16'
1936 Chris Craft utility
with 4 cylinder Chris Craft Engine, cover and Sea lion trailer. Older restoration needs minor refresh.One of 152 built 1935-1936. Milton N.H.Showroom.
$10,000




14

24'
1926 Fay Bowen
with original Fay Bowen L head engine.One owner boat until 3
years ago from Lake Hopactong N.J. Boat house kept and in well preserved original condition. Rare all mahogany, in water 2018. No trailer.Milton N.H. Showroom






15



1937 Chris Craft Racer
Modified by Wayne Mocksfield in 1997. Stretched to 21', rolled decks, powered by a Cal Conell Cadillac 300 Hp, Leather interior, new Vantage tandem trailer and cover.Very fast and superb craftsmanship. Sleaper is in excellent condition and ready to run.
$75,000




17

20'6"
Toodles - 1939 Gar Wood Streamlined Sedan
with all original Hardware, Gauges,
Switches, Wheel and Original Rebuilt Chrysler Ace. Complete restoration, best in show Wolfeboro N.H.,best in show Lake George.Full waterline cover and new Vantage tandem trailer. Built in limited numbers Toodles is a show stopper.






33

19'
1939 Chris Craft Barrel Back
Powered by a CC Model LC twin carb. Complete restoration with 3M 5200 bottom. Bugatti windshield and custom tandem trailer
Sold




34



Late 20's Chrysler LM
running take out.
$10,000




37

21'

1904 Valley Launch model 1214
Faultless is powered by a 1915 Palmer Q2 4 Hp. 2014 International Show best preserved and awarded the Walter J Kincaid Memorial Award, 1st place best preserved Clayton and Best preserved Meredith N.H. Built in
Baldwinsville N.Y. Trailer included.






35

18'

1950 Chris Craft Sportsman, Model K
6 cyl engine rebuilt by Van Ness 20 years ago with little use since. Easy access walk through front seat. 12 Volt system with alternator, cover and bimini top. Prop reconditioned by Atlantis Propeller , tandem trailer included
$16,000





12

22'

1941 Chris Craft Deluxe Sedan
hull # 22720 Completely restored including rebuild of the CC Model M 130 Hp engine. Correct in every way with original blue faced gauges, ready to show. Custom cover and tandem trailer.
$50,000




11

17'

1957 Chris Craft Cavalier
dbl forward Runabout powered by a CC KFL 131 Hp 6 cyl, cover and tandem trailer. Recent refinish, over all very good condition. Milton Showroom
$15,000





10

15'4"

1949 Ventnor utility
original rebuilt Chrysler Ace with 0 hours. New bottom, sides, stem, chines, transom, fuel tank+ lines, wire. Original engine , hardware, wheel, upholstery, flooring. 2017 galvanized trailer all in excellent condition. Milton Showroom.
$15,000





22

17'

1946 Higgins Sport Speedster
powered by a GM 283 V8. New bottom, prop shaft + log, aluminum gas tank, upholstery, cover, restored panel + gauges, additional electronic tach + voltmeter. Professional spray paint 2013. All system working, galvanized trailer included. Boat was featured in N.H. Bride Magazine for photo shoot on Squam Lake.
$32,000




7

17'

1948 Chris Craft Deluxe Runabout
hull # 1389 powered by a Chris Craft KBL 6 cyl tri carb 131 HP. Complete restoration with 3M 5200 bottom, 12 volt conversion, fire suppression system, waterline cover and trailer. Excellent condition throughout, ready to run.
Sold




29


24'
1931 Chris Craft upswept
Complete original unmolested boat with Chrysler LM Silverdome engine and tandem trailer. Milton Showroom.
$30,000




16

24'

1960 Chris Craft Sportsman
hull # 145 powered by a GM 283 185 HP V8. Bimini top and side curtains. Good driver could use deck refinish. No trailer possible transport depending on location. Milton Showroom.

Sold




24

26'

1928 Chris Craft Triple Cockpit
New decks, transom, coamings, ceilings and hatches. Good bottom, topsides stripped and 2 planks replaced. Seat frames and flooring pieces present for patterns. All underwater hardware present, deck hardware includes windshield, bow light, stern socket, lift rings, fuel cover, rub rail, vents, chocks. No engine or trailer. Delivered with CC A120 and was a ride boat in NY State. Milton Showroom.

Sold




6

17'
1936 Chris Craft Deluxe Utility
powered by Chrysler Ace 6 cyl. Original hardware, gauges and wheel. 5200 bottom approx. 9 years ago. 2016 new decks, cloth wire, aluminum fuel tank, all hardware nickel plated, fuel lines, upholstery, flooring, complete strip and refinish. Trailer included.
Sold




27

27'-6'"
1926 Albany triple cockpit
designed by John Hacker. New 3 ply West bottom, frames, stringers, topsides and decks. Rebuilt 454 long block with new Hursh 1.5 down angle transmission. Interior woodwork [ ceilings, seat frames ] complete and varnished. Some hardware and boat history package included.
Sold




26

26'
1926 26' Hacker Dolphin
powered by a Mercruiser 350 V8. New 5200 bottom, including keel, frames+stem. New topsides with battens, rear deck and cover boards. 2 new aluminum fuel tanks. Excellent
condition, includes a tandem aluminum Fast Load trailer and dust cover. Restoration photos available. Milton Showroom
$79,000




01

22'
1937 Chris Craft Custom triple cockpit
powered by a rebuilt Chris Craft MCL ,12 volt conversion. West system bottom and new frames where needed, new sides and deck. New chrome and correct leather by Keleen and installed by JD Canvas. Correct panel and gauges restored by Pat Powell finished off with a super banjo wheel. One of 138 built , hull # 22078

$65,000





45

18'
1931 Dart Dbl Cockpit Runabout
powered by a correct Chrysler Model CM. One of few to exist with new bottom otherwise very original boat with great patina. 2 Owner boat with some race history on Lake Winnipesaukee N.H. Not run since bottom replacement. Great show boat for the preservation class. Original registration plate from 31, sales brochure and notice to dealer tag. Trailer included.
$45,000




44

16'
1949 Chris Craft
powered by a 4 cyl CC Model B engine. New 5200 bottom, upholstery, fuel tank, lines, cloth wire, correct flooring and total refinish. Rare one year build with Cedar sides, ceilings and dash. Complete original hardware, not run since restored. Excellent condition, ready to show. Trailer included. Milton Showroom.

Sold




02


18'

1936 Chris Craft model 514 dbl forward runabout

1 of 208 built, powered by a 0 hour rebuilt Chris Craft model K engine. Dry boat with 5200 bottom, rare model all sorted out ready to run. Custom trailer and waterline cover. Milton showroom,

Sold




08


16'
1936 Chris Craft model 500 utility
1 of 152 built, powered by a strong Chris Craft model b engine. Dry boat with 5200 bottom, new fuel tank, wire, upholstery & chrome, excellent cond throughout . Ready to run and show. New galvanized trailer.
Sold




18


20'
1954 Chris Craft Holiday
with rebuilt CC MBL 158 HP 6 cyl engine. Fully restored with 5200 bottom, new upholstery + cover. Walk through front seat for easy access. One year build of this model with only 101 units. Single axel trailer included.
Sold




09


22'
1937 Hutchinson
with rebuilt Chrysler Crown. Seats 8 with factory corner seats + storage below. Original hardware , gauges and all systems working. Excellent condition
Sold




05


24'

1931 Chris Craft Upswept
Hull # 2584 with Original rebuilt Chrysler Imperial 125 HP 6 cyl # LM4376 with Holly Downdraft . 5200 bottom, 90% new wood, cloth wire, 6 volt system, Continental trailer, gauges restored by Clawson. Best Restored awards 2 years at RDC Chapter Gaston Lake N.C. Excellent condition, ready to show.

Sold




19



30'


1987 Hacker


w GM 454 300 hp under 400 hours. New bottom and refinish in 2002. Tandem Kla ssic trailer with new hydraulics and break system, AM,FM,CD and full waterline cover all in excellent condition. Ready to run.


Sold




25

26'

1929 Fitzgerald Lee Split Cockpit Runabout
powered by a Crusader 454XL with ZF Transmission. Restored with 3 Ply west bottom and sides, full cover, bimini and custom built Custom Trail tandem trailer. Very good condition, in water 2014, survey available. This Fitzgerald has very nice lines. Milton Showroom.
Sold




13


19'
1930 Rochester
built by Rochester Boat + Engine in Rochester NY, very rare with original gauges, panel, hardware, wheel. powered by Lycoming. 98% original wood, Meredith NH first place 07. Full cover included.







23

17'

Hull # 71153 re powered with Mercruiser V6 + new upholstery. Trailer + original Model B engine included. Very nice pre war runabout.

Sold




04


20'

w/ 0 hours on the original rebuilt Universal 6. New west bottom, new wood on sides, decks, transom. New wire, upholstery + restored original gauges + panel. Engine by Mark Wilson. Trailer included. Milton Showroom.

Sold





21




   28'


1929 Chris Craft Custom Upswept
Hull # 3038, Tahoe boat all original equipment except repowered to a 440 Chrysler. 1 of 137 built. Trailer and waterline covers.

Sold




↓ Project Boats ↓





28


18'

1933 18' Chris Craft model 301 split cockpit


Some hardware, Milton Showroom

Sold




30


16'

1941 Chris Craft stepped hydro


5200 bottom, trailer, no engine. Milton Showroom

Sold




32


18'

1948 Ventnor


Complete with Chrysler Crown.

$6,000




38


18'

1935 Chris Craft Hardtop


Model B engine, complete boat. Milton Showroom.

$12,000




39


22'

1924 Toppan High Speed Launch


Original Kermath. Complete one owner boat out of 40 year storage. Milton Showroom.

Sold




40


23'

1947 Chris Craft Express Cruiser
with original Chrysler Ace 6 cyl. Restored gauges, complete original hardware and tandem trailer. Excellent complete cruiser project.
Sold






For more Information on the boats listed above, Click Here
Click on our address for a map


Inland Boat Works
Gary Michael
P.O. Box 34

44 Industrial Way
Milton, NH 03851
Phone: (603) 345-3765

Email: info@woodboats.org
boats,WOODEN CRAFTS, Wooden Craft, wooden crafts,Wooden Boats,MAHOGANY BOATS, mahogany boats, Mahogony Boats ANTIQUE BOATS, CLASSIC BOATS,CHRIS+CRAFTS, chris+crafts, CENTURY BOAT, CENTURY CHRIS CRAFT,Chris Crafts,wooden boats, WOODEN CRAFTS, Wooden Craft, wooden crafts,Wooden Boats, MAHOGANY BOATS, mahogany boats, Mahogony Boats ANTIQUE BOATS,CLASSIC BOATS, CHRIS+CRAFTS, chris+crafts,CENTURY BOAT, CENTURY, CHRIS CRAFT,Chris Crafts,WOODEN BOATS,wooden
Copyright © 2020 Woodboats.org - Ron Robert Web Design