11th Annual Auction
June 1 - 2, 2019
Consign early for maximum exposure

of your antique boat or vintage auto.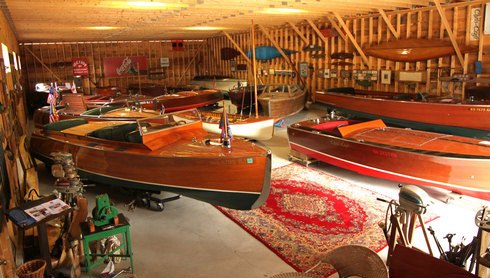 1938 15' Electracraft. Viska [Swedish for whisper] is a very rare
electric boat built in Central N.Y. Clayton show winner with new frames, decks and interior. There are no batteries with the boat, trailer included. From a large collection we are offering.

Check back for new listings.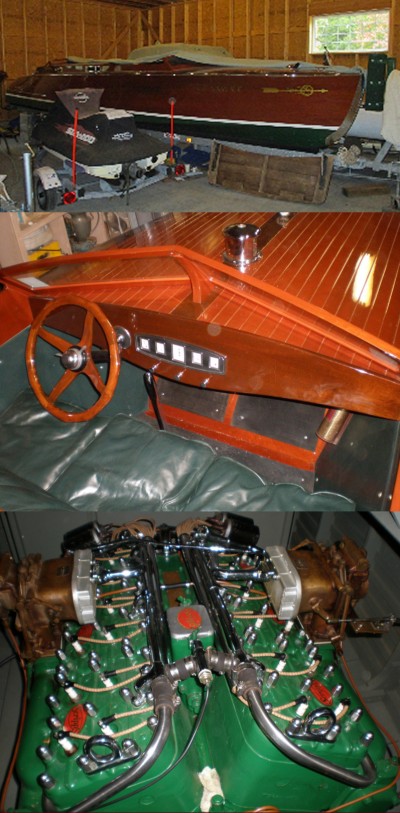 1938 Chris Craft 25' triple cockpit w/ replacement bottom by Muller Boat Works Sunapee N.H. Powered by a GM 427 w/ 200 hours. Fresh varnish, Dietrich top and factory lockable aft cockpit covers that can be stored in the engine bay. Rare Runabout in excellent condition, available for water test in N.H.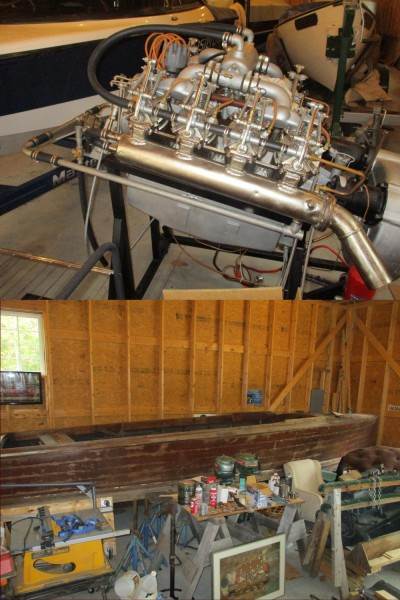 To see the photographs at a larger size, please click on that boats image or on the hyperlink next to the photo Click here or call (603) 345-3765 if you need more information on a specific boat listed.











#




PHOTO

LENGTH

MAKE & DESCRIPTION

PRICE





3

17'

1947 Chris Craft Deluxe Runabout
with CC Model K engine. New upholstery, wire, generator, bottom paint, strip and refinish w/ 15 coats of Epiphanes. Trailer and cover.

$33,000




22

17'

1946 Higgins Sport Speedster
powered by a GM 283 V8. New bottom, prop shaft + log, aluminum gas tank, upholstery, cover, restored panel + gauges, additional electronic tach + voltmeter. Professional spray paint 2013. All system working, galvanized trailer included. Boat was featured in N.H. Bride Magazine for photo shoot on Squam Lake.
$32,000




7

17'

1948 Chris Craft Deluxe Runabout
hull # 1389 powered by a Chris Craft KBL 6 cyl tri carb 131 HP. Complete restoration with 3M 5200 bottom, 12 volt conversion, fire suppression system, waterline cover and trailer. Excellent condition throughout, ready to run.
Sold




34

21'
1938 Chris Craft Sedan
powered by a Chris Craft model K- 6 cylinder. Has 3rd seat under the Hardtop, overall very good condition. Has not been run for 10 years, Winsor trailer included.
$15,000




29


24'
1931 Chris Craft upswept
Complete original unmolested boat with Chrysler LM Silverdome engine and tandem trailer. Milton Showroom.
$30,000




15

14'

1947 Wagemaker Wolverine
Super Deluxe Runabout ,Clayton show winner in preserved condition, 98% original wood powered by a 1947 Evinrude 22HP Speedy Twin with low hours, trailer included. Part of a large collection we will be offering.

$6,500




16

24'

1960 Chris Craft Sportsman
hull # 145 powered by a GM 283 185 HP V8. Bimini top and side curtains. Good driver could use deck refinish. No trailer possible transport depending on location. Milton Showroom.

Sold




14

21'

1955 Chris Craft Capri
powered by a rebuilt original Chrysler 331 Hemi. 200 photo disc available of the 5 year restoration of new sides, decks, transom, frames, upholstery, 5200 bottom, chrome + instruments by Kocian. Inner diagonal planking is mahogany, no plywood used in the rebuild of this boat. Multiple show winner including Best Chris Craft in Clayton N.Y. 2 Layer waterline + transport cover, canvas lined with felt. Includes a custom fitted Venture trailer. Excellent condition, Ready to show.

$85,000





17

22'

1952 Chris Craft Sedan
1952 22' Chris Craft Sedan powered by a Ford 302 V8. Canvas cover and tandem axel Continental Trailer. Milton Showroom.

Sold




24

26'

1928 Chris Craft Triple Cockpit
New decks, transom, coamings, ceilings and hatches. Good bottom, topsides stripped and 2 planks replaced. Seat frames and flooring pieces present for patterns. All underwater hardware present, deck hardware includes windshield, bow light, stern socket, lift rings, fuel cover, rub rail, vents, chocks. No engine or trailer. Delivered with CC A120 and was a ride boat in NY State. Milton Showroom.

Sold




33

18'

1947 Gar Wood Commodore
powered by a rebuilt 0 hour Chrysler Crown. Complete original hardware, gauges, panel, wheel+ dash switches. Very rare boat with new 5200 bottom and Winsor trailer.

Sold




6

17'
1936 Chris Craft Deluxe Utility
powered by Chrysler Ace 6 cyl. Original hardware, gauges and wheel. 5200 bottom approx. 9 years ago. 2016 new decks, cloth wire, aluminum fuel tank, all hardware nickel plated, fuel lines, upholstery, flooring, complete strip and refinish. Trailer included.
Sold




27

27'-6'"
1926 Albany triple cockpit
designed by John Hacker. New 3 ply West bottom, frames, stringers, topsides and decks. Rebuilt 454 long block with new Hursh 1.5 down angle transmission. Interior woodwork [ ceilings, seat frames ] complete and varnished. Some hardware and boat history package included.
Sold




26

26'
1926 26' Hacker Dolphin
powered by a Mercruiser 350 V8. New 5200 bottom, including keel, frames+stem. New topsides with battens, rear deck and cover boards. 2 new aluminum fuel tanks. Excellent
condition, includes a tandem aluminum Fast Load trailer and dust cover. Restoration photos available. Milton Showroom
$79,000




01

22'
1937 Chris Craft Custom triple cockpit
powered by a rebuilt Chris Craft MCL ,12 volt conversion. West system bottom and new frames where needed, new sides and deck. New chrome and correct leather by Keleen and installed by JD Canvas. Correct panel and gauges restored by Pat Powell finished off with a super banjo wheel. One of 138 built , hull # 22078

$65,000





45

18'
1931 Dart Dbl Cockpit Runabout
powered by a correct Chrysler Model CM. One of few to exist with new bottom otherwise very original boat with great patina. 2 Owner boat with some race history on Lake Winnipesaukee N.H. Not run since bottom replacement. Great show boat for the preservation class. Original registration plate from 31, sales brochure and notice to dealer tag. Trailer included.
$45,000




44

16'
1949 Chris Craft
powered by a 4 cyl CC Model B engine. New 5200 bottom, upholstery, fuel tank, lines, cloth wire, correct flooring and total refinish. Rare one year build with Cedar sides, ceilings and dash. Complete original hardware, not run since restored. Excellent condition, ready to show. Trailer included. Milton Showroom.

Sold




42

22'
1990 VanDam Dbl Cockpit Racer
powered by a GM V8 305 Crusader. Craftsmanship, power and modern construction, GPS at 48MPH. Cover, Tandem trailer and Racer all in excellent condition. Milton Showroom.
$95,000




12

22'
1941 Chris Craft Deluxe Sedan
hull # 22720 Completely restored including rebuild of the CC Model M 130 Hp engine. Correct in every way with original blue faced gauges, ready to show. Custom cover and tandem trailer.
$79,000




02


18'

1936 Chris Craft model 514 dbl forward runabout

1 of 208 built, powered by a 0 hour rebuilt Chris Craft model K engine. Dry boat with 5200 bottom, rare model all sorted out ready to run. Custom trailer and waterline cover. Milton showroom,

Sold




08


16'
1936 Chris Craft model 500 utility
1 of 152 built, powered by a strong Chris Craft model b engine. Dry boat with 5200 bottom, new fuel tank, wire, upholstery & chrome, excellent cond throughout . Ready to run and show. New galvanized trailer.
Sold




18


20'
1954 Chris Craft Holiday
with rebuilt CC MBL 158 HP 6 cyl engine. Fully restored with 5200 bottom, new upholstery + cover. Walk through front seat for easy access. One year build of this model with only 101 units. Single axel trailer included.
Sold




09


22'
1937 Hutchinson
with rebuilt Chrysler Crown. Seats 8 with factory corner seats + storage below. Original hardware , gauges and all systems working. Excellent condition
Sold




05


24'

1931 Chris Craft Upswept
Hull # 2584 with Original rebuilt Chrysler Imperial 125 HP 6 cyl # LM4376 with Holly Downdraft . 5200 bottom, 90% new wood, cloth wire, 6 volt system, Continental trailer, gauges restored by Clawson. Best Restored awards 2 years at RDC Chapter Gaston Lake N.C. Excellent condition, ready to show.

Sold




19



30'


1987 Hacker


w GM 454 300 hp under 400 hours. New bottom and refinish in 2002. Tandem Kla ssic trailer with new hydraulics and break system, AM,FM,CD and full waterline cover all in excellent condition. Ready to run.


Sold




25

26'

1929 Fitzgerald Lee Split Cockpit Runabout
powered by a Crusader 454XL with ZF Transmission. Restored with 3 Ply west bottom and sides, full cover, bimini and custom built Custom Trail tandem trailer. Very good condition, in water 2014, survey available. This Fitzgerald has very nice lines. Milton Showroom.
Sold




13


19'
1930 Rochester
built by Rochester Boat + Engine in Rochester NY, very rare with original gauges, panel, hardware, wheel. powered by Lycoming. 98% original wood, Meredith NH first place 07. Full cover included.







23

17'

Hull # 71153 re powered with Mercruiser V6 + new upholstery. Trailer + original Model B engine included. Very nice pre war runabout.

Sold




04


20'

w/ 0 hours on the original rebuilt Universal 6. New west bottom, new wood on sides, decks, transom. New wire, upholstery + restored original gauges + panel. Engine by Mark Wilson. Trailer included. Milton Showroom.

Sold





21




   28'


1929 Chris Craft Custom Upswept
Hull # 3038, Tahoe boat all original equipment except repowered to a 440 Chrysler. 1 of 137 built. Trailer and waterline covers.

Sold




↓ Project Boats ↓





28


18'

1933 18' Chris Craft model 301 split cockpit


Some hardware, Milton Showroom

Sold




30


16'

1941 Chris Craft stepped hydro


5200 bottom, trailer, no engine. Milton Showroom

Sold




32


18'

1948 Ventnor


Complete with Chrysler Crown.

$6,000




38


18'

1935 Chris Craft Hardtop


Model B engine, complete boat. Milton Showroom.

$12,000




39


22'

1924 Toppan High Speed Launch


Original Kermath. Complete one owner boat out of 40 year storage. Milton Showroom.

Sold




40


23'

1947 Chris Craft Express Cruiser
with original Chrysler Ace 6 cyl. Restored gauges, complete original hardware and tandem trailer. Excellent complete cruiser project.
Sold






For more Information on the boats listed above, Click Here
Click on our address for a map


Inland Boat Works
Gary Michael


293 Route 13
Brookline, NH
Phone: (603) 345-3765

Email: info@woodboats.org
boats,WOODEN CRAFTS, Wooden Craft, wooden crafts,Wooden Boats,MAHOGANY BOATS, mahogany boats, Mahogony Boats ANTIQUE BOATS, CLASSIC BOATS,CHRIS+CRAFTS, chris+crafts, CENTURY BOAT, CENTURY CHRIS CRAFT,Chris Crafts,wooden boats, WOODEN CRAFTS, Wooden Craft, wooden crafts,Wooden Boats, MAHOGANY BOATS, mahogany boats, Mahogony Boats ANTIQUE BOATS,CLASSIC BOATS, CHRIS+CRAFTS, chris+crafts,CENTURY BOAT, CENTURY, CHRIS CRAFT,Chris Crafts,WOODEN BOATS,wooden
Copyright © 2019 Woodboats.org - Ron Robert Web Design